Travel Guide for Boracay Island Philippines 2012. Your paradise island beach vacation.
Boracay is a small tropical island located in South East Asia In the Philippines, a world famous beach holiday destination known for its white sand beach lined with lush coconut trees, turqoise calm water, sunny weather, luxury hotels and resorts offering the most relaxing vacation possible.  It is Asia's most popular exotic holiday destination for people looking for a relaxing break and the island often ranks in the top ten beaches in the world award. Its where tourists from around the world go to escape the city and experience the feeling of being cut off from their lives and immerse themselves in a peaceful natural environment of ocean, sand, trees, bamboo, fresh air, massages, cocktails, hammocks and sunshine.  All the tips and advice on this website come from my personal experience of living on the island for 5 years plus the experience of my locals and expat friends who have lived on the island for more than 30 years.
Boracay Island is a true tropical paradise

……

Ive been a very lucky man, im orignally from England and have been living on the white beach of boracay for years now which i am very grateful for. I hope this website will help tourists and travellers enjoy their Boracay trip to its full potential and please feel free to email if you want any tips about the island
  If you are looking for a relaxing tropical beach vacation in Asia then have a read through the site to see what Boracay has to offer and checkout our guide for the best hotels in boracay from budget hotels to 5 star resorts, including boracay packages and special offers.

My First Experience Landing in Boracay Island by boat…..
I remember the first time i arrived in Boracay in 2005, towards the end of my around the world 1 year travels. I was so excited, white sand, coconut trees lining the beach, cyrstal clear blue water that looks like a dream. it was my first every tropical holiday in Asia and the first time i had ever been to an exotic island like this for a vacation. I actually picked boracay while i was on a mission to go on the most relaxing trip ever. I wanted somewhere that was a real relaxing paradise, had hotels right on the beach, had crystal clear water with corals and tropical fish, had perfect weather e.g. was sunny and hot and i could get great value for money. I knew it would have to be a beach in Asia as they usually have the most beautiful destinations in the world and have the best weather. After doing a lot of research Boracay Seemed to be the place for me so i booked up a beach resort right on the White beach and off i went on my tropical island vacation. 
I was approaching the famous white beach (boracays main beach), i was in my shorts and flip flops on a small banka boat ferry (checkout 'how to get there' page) and i could see nothing but blue water that was so clear i could see down 20-30 meters to the bottom, fishes swimming around the coral, i had never seen water that clear or flat, it was like looking at a tropical postcard only this time im seeing it for real, pure white sand on the beach, palm trees (first time i ever saw palm trees) and the weather was hot and sunny, perfect, i had made the right choice.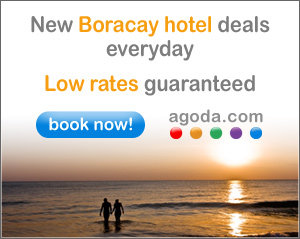 It was heaven. I was looking down into the water thinking WOW, this is it, a real paradise, they really do exist! The boat went right up onto the beach (since about 2008 boats now lands on a dock) and i jumped off into the shallow warm water, the sand was pure white and felt like silk, i couldnt get over the feeling of the sand. I walked across the beach towards the palm trees to walk along pathway and look for my hotel which was located in station 3 on boracay's famous white beach. I knew straight away i was standing in one the most beautiful places in the world, there was just this strange magical feeling in the air, ok i know that sounds cheesy, but really, the air was so fresh, with the smell of bbq's wifting around, the water was flat as a pancake, theres big moutains on one side (caticlan island) and everything was so tranquil and perfect, everyone looked so happy, I was home
Finding My resort in Boracay…
So after landing on the beach by boat and going up to the path in the palm trees thats walks, i walked for a few minutes shaded by the palm trees that line the beach, walking past little restaurants, bars, bbq's, nipa hut hotel rooms looking for my hotel, people sat in hammocks sipping on cocktails and reading books in their shorts, the whole time thinking WOW, i cant believe a place like this exists….
After a minute walking under the palm trees along the beach i saw my resort, casa camilla, my home for the next two few weeks (which turned into years), i was so excited to check in, i had a really simple room with a bamboo bed, bathroom, bamboo roof, mini balcony and a fan, but i was right on the beach. No tv or aircon because i was on a budget so i was staying in their cheapest room and to be honest, i was only in my room at night to sleep. I quickly checked in, changed into my shorts, put on my flip flops and ran to the beach and into the water…..